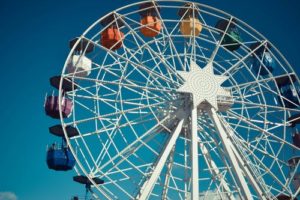 Controlling waste in amusement parks is extremely difficult. These parks attract thousands of guests every day and each of these guests creates a lot of waste. As waste bins fill up, the likelihood of overflowing increases. If waste overflows, it creates a health and safety hazard for guests and employees.
Spilt litter attracts pests, which can carry serious disease. People can trip over or become entangled in waste, increasing the chance of serious injuries. In addition to safety concerns, litter looks awful. The last thing most amusement parks want people to remember or share with friends and family is the image of litter.
Traditional Waste Management Isn't Enough to Keep Amusement Parks Clean
In an effort to keep waste bins empty, amusement parks send waste management teams to regularly collect trash. This generally occurs on a pre-determined schedule or when guests complain about overflowing bins. Unfortunately, bins get emptied whether they need it or not. This increases the number of trash bags used, costing amusement park owners a lot of money on supplies and labor.
Mint Controls' Smart Waste Solutions work better! By monitoring the level of waste inside containers, waste management teams know exactly when and which bins require attention. The system automatically collects and transmits status multiple times a day, putting waste management teams in the best possible position to prevent overflowing bins. Because bins are only emptied when needed, amusement park owners save a considerable amount of money on waste management costs.
In addition to saving money, our system allows for better allocation of staff. Thanks to the data provided by the system, management will know exactly what their waste management budget is going towards. The system increases accountability and productivity.
Comprehensive Technology Solutions
Mint Controls provides technology solutions, customized to the needs and requirements of every business we work with. We work directly with each of our clients to evaluate their needs and develop a comprehensive solution to a wide range of problems. Our Smart Waste Solutions reduce waste management costs while improving efficiency.
Please contact us for more information about our Smart Waste Solutions.