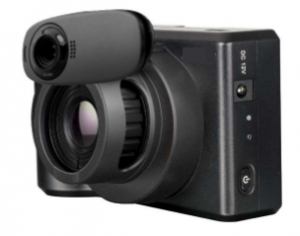 As businesses around the United States begin to reopen, management faces a unique challenge to prevent the spread of disease. It's crucial that businesses take all necessary precautions to detect elevated body temperature and slow the spread of disease.
Mint Controls understands the needs of organizations today. We have worked with several businesses across a variety of industries to identify and solve a number of complex challenges. The current global situation is no different. Today, we are using our Thermal Imaging Camera to detect and alert management of elevated body temperature. Although a higher than normal temperature doesn't necessarily mean an individual is sick, it serves as a first defense and may help slow the spread of disease.
Thermal Camera Helps Detect Elevated Body Temperature
The Thermal Camera uses thermal technology and artificial intelligence (AI) to detect elevated body temperature (EBT). Oanization can use the Camera to scan multiple individuals. When placed in key locations, organizations can scan individuals for EBT before they enter the building or come into contact with others.
Although no camera can detect or diagnose COVID-19 or other infectious diseases, Mint Controls' Thermal Camera provides an effective monitoring solution when used in combination with other screening tools to detect higher than normal body temperature in high-traffic public places. The Temperature Detection Camera allows for quick scanning of individuals and groups and can help identify people that might require additional care or attention.
The Thermal Camera measures the temperature of skin. It does not require direct contact with individuals and can be mounted in areas like doorways and other key locations. Optimal placement includes high-traffic areas where workers or visitors gather.
Through integrated software, the Camera locates and measures body temperatures in key areas like the forehead and the corner of the eye, where body temperature readings are generally more accurate. The system alerts users when the Camera identifies individuals with potentially elevated body temperature. Users can use this data to determine if further screening with virus-specific diagnostic testing is required.
Options and Possibilities
At Mint Controls, we understand that every organization has different needs and requirements. We work directly with each of our clients to identify and solve complex challenges. Organizations can use our Thermal Camera with our RFID solution to help identify employees with an elevated body temperature.
Please contact us for more information about this solution.