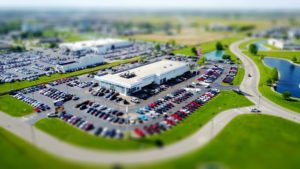 Car dealerships are responsible for hundreds of thousands of dollars of merchandise. In addition to vehicles, these dealerships often store large amounts of inventory for repairs and other services. Unfortunately, theft is common. When thieves gain access to car dealerships, they can cause a lot of damage to property. They can also take expensive vehicles and parts. It's crucial that car dealerships ensure adequate security at all times.
Surveillance Cameras and Alarms
Traditional car dealership security includes surveillance cameras and alarms. Unfortunately, most car dealerships do not have the time or people needed to monitor camera footage 24/7. Without proper monitoring, security teams will never know if criminals gain access or take expensive vehicles. They might not even find out that a vehicles is missing until someone asks to view it.
Once discovered, staff must dig through massive amounts of video footage searching for the moment the vehicle was taken. This can take a lot of time and effort and still leaves a lot of room for error. Security cameras simply cannot see all areas of the property and skilled criminals can easily avoid them.
While alarms might temporarily deter criminals, most people have learned to ignore them due to the high rate of error. This makes alarms ineffective at preventing theft and unauthorized access. It's clear that car dealerships require additional security.
Car Dealership Security Solution
Mint Controls provides security solutions designed for modern businesses. Our solutions provide an effective and reliable security system designed to increase accountability while preventing loss. We use LiDAR technology to monitor all areas.
Our LiDAR system provides a 360 degree view. This is different from traditional security cameras which only provide a 120 degree view of the area. The system analyzes all collected data. It applies predictive analysis to locate potential problems. Configuration of the system allows it to send an email or text message to security staff the moment issues are detected. This puts car dealerships in the best possible position to prevent theft and damage.
Mint Controls works directly with each of our clients to develop a solution customized to your unique needs and requirements. Please contact us for more information about car dealership security.