As organizations around the world begin preparing to reopen and resume business as normal, leaders must take care to prevent the spread of disease. Although thermal cameras do not protect against, prevent, or diagnose illness, they can provide an effective solution for detecting elevated body temperature of both staff and visitors.
While several organizations have implemented mask policies and mandatory temperature screenings for employees, these measures are not enough to protect others from infection. Temperature screenings using a thermometer require the person taking the temperature to come within inches of a potentially infected person.
Mint Controls' FeverOptics Camera provides an effective solution for detecting elevated body temperature (EBT) in multiple people. When mounted in entryways, these cameras can detect higher than normal body temperature from up to 10 feet away. The person taking the reading doesn't even have to come close to the person being scanned.
How It Works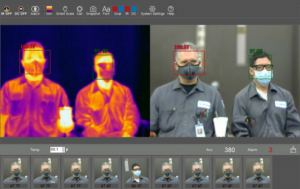 The System uses thermal technology and artificial intelligence (AI) to detect elevated body temperature (EBT) in individuals and groups that come within the scanning area of the camera. When placed in key locations, organizations can scan individuals for EBT before they enter the building or come into contact with others. The FeverOptics Camera allows for quick scanning of individuals and groups and can help identify people that might require additional care or attention.
The FeverOptics Camera measures the temperature of skin. It does not require direct contact with individuals. When mounted in areas like doorways and other key locations surrounding high-traffic areas where workers or visitors gather.
Through integrated software, the Camera locates and measures body temperatures in key areas like the forehead and the corner of the eye. Masks and other face coverings do not effect the accuracy of the Camera. In fact, the air escaping the lungs is generally 9 degrees cooler than body temperature.  The system alerts users when the Camera identifies individuals with potentially elevated body temperature. Users can then decide whether to perform further screening with virus-specific diagnostic testing.
Please click here for more information.
Disclaimer:
This device is not used to diagnose COVID-19 or the existence of any virus or medical condition.  Mint Controls is not advertising this device for use in the medical industry or for any medical purpose.  Businesses and other organizations can use this device to identify individuals in a population that show higher than average temperature in relation to a sample population. This device does not find individuals experiencing COVID-19 symptoms or the symptoms of any other illness or medical condition.
There is no way to thermally detect an infected individual who does not have an elevated body temperature and only a licensed medical professional can determine if an individual is experiencing a particular medical condition.  The accuracy of this device in detecting the temperature of an individual may be affected by environmental factors and other variables related to how and where the device is used.  Mint Controls provides no representations or warranties as to the accuracy of any particular temperature reading or group of temperature readings.
Product Specifications: