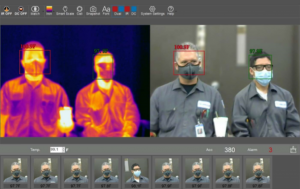 The recent COVID-19 outbreak has put life on standstill for people around the world. While numerous people remain unemployed, others are finding it difficult to remain locked in their homes away from the rest of the world. As businesses begin to consider reopening, it's important that organizations take necessary precautions to help slow the spread of disease.
Thermal Cameras Provide an Efficient Way to Scan Body Temperature
While several organizations have implemented mask policies and mandatory temperature screenings for employees, these measures are not enough to protect others if someone has a fever. Temperature screenings using a thermometer require the person taking the temperature to come within inches of a potentially infected person.
Specially designed thermal cameras can be used to detect elevated body temperature (EBT) in multiple people. When mounted in entryways, these cameras can detect higher than normal body temperature from up to 10 feet away. The person taking the reading doesn't even have to come close to the person being scanned.
Mint Controls' Thermal Camera provides an efficient tool for detecting elevated body temperature. The system sends an audio and visual alarm when it detects higher than normal temperatures. When combined with an RFID enabled badge, the system can connect employees to their temperature, providing a complete solution for detecting and preventing potential problems.
Elevated Body Temperature Could Indicate Infectious Disease
In addition to COVID-19, elevated body temperature could indicate numerous diseases including:
Measles
Chickenpox
Influenza
Whooping Cough
Common Cold
And More
Technology Solutions
Mint Controls strives to provide businesses with a comprehensive technology solution. We take the time necessary to fully evaluate each of our client's unique needs and requirements. This allows us to locate areas and options that will provide the greatest benefits. In addition to thermal cameras, we also offer RFID tracking solutions, waste management solutions, and security solutions for individuals, businesses, and organizations of all shapes and sizes.
Mint Controls employs a full team of experienced professionals. This allows us to provide exceptional service and a wide range of solutions for multiple problems.
Please contact us for more information about our Temperature Detection Camera.