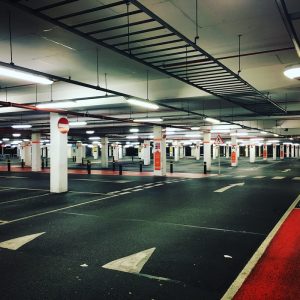 Many dangers exist in parking lots. Without proper lighting and monitoring, accidents and crimes commonly occur. This is especially true for covered and underground parking lots. Monitoring these spaces can take a lot of effort, and even with cameras and other security equipment, crimes and accidents still occur.
Traditional cameras do not provide adequate monitoring of parking lots and other large spaces. Cameras cannot see through cars and people can easily avoid the camera's restricted 120 degree view. Alarms do little more than annoy people. When people hear a car alarm, they typically continue on without even glancing towards the sound.
Sometimes, property owners have live security guards monitoring the area. While seeing a live guard may deter some people from committing crimes, this method isn't foolproof. It's not that hard to avoid the view or outrun security guards. It's clear that property owners need a better solution for monitoring parking lot areas.
Comprehensive IoT Security Solutions
Mint Controls provides comprehensive IoT solutions. Our smart security solutions use advanced technology and wireless communication to detect and report potential problems before they occur. We offer several different options and features to ensure each of our client's receives a comprehensive security solution that addresses each of their needs and requirements.
Our system uses LiDAR technology to monitor all areas of the parking lot. This highly reliable and effective technology provides a 360 degree view and can detect people hiding behind vehicles. This completely eliminates the chance of people hiding from the device. The system does not provide images of people, it only provides their outline. This makes LiDAR an excellent choice for areas that restrict the use of facial recognition.
The system transmits data captured by LiDAR devices at regular intervals throughout the day. It then applies predictive analysis to locate patterns and detect changes. This helps the system spot potential issues. Based on rules determined by the property owner, the system sends automatic alerts via SMS text message and/or email the moment it detects a potential problem. Users can view all data provided by the system on Mint Controls' Software.
Please contact us for more information about our security solutions.