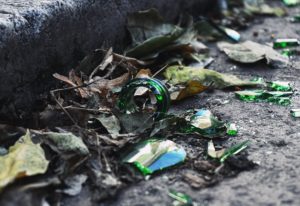 Every person in every city around the world creates trash. Unfortunately, a lot of this trash does not make it to the landfill. When waste bins overflow or are simply unavailable, litter buildups up on streets and sidewalks, creating an unsightly mess and a safety hazard for both people and animals.
In addition to making city spaces unattractive and undesirable to residents and visitors, litter attracts rodents and other pests, increasing the spread of disease. Spilt litter can quickly make its way into storm drains, putting ocean wildlife at risk. Seabirds and other animals frequently ingest litter, believing it's something else. This can cause serious injury and even death.
Traditional waste bins do not prevent litter from overflowing. These bins have no way of letting waste management teams know when they require attention. Unfortunately, waste pickup schedules are often based on time and not level of waste in containers. This method is both inefficient and costly. Bins get serviced whether they need it or not.
Smart Waste Solutions Keep City Spaces Clean
Mint Controls' Smart Waste Solutions increase the efficiency of waste management teams by providing the information needed to optimize collection routes and ensure waste bins get emptied when needed. The system collects and transmits information about the fill level and location of multiple bins. This information is sent directly to waste management teams on an hourly basis. Alerts are sent the moment waste reaches a pre-determined level, usually two-thirds the height of the bin.
By viewing the information provided by fill level devices on Mint Controls' Software, users can plan pickup routes based on actual usage. This reduces the chance of overflowing bins and ensures waste management teams make the most of the time.
Fill Sensors provide a convenient solution for cities, shopping centers, office buildings, concerts, special events, convention centers, and more. These Sensors attach easily to any bin, providing a comprehensive fill level monitoring solution.
Mint Controls also offers Mr. Fill Smart Bins. These bins self-compact, significantly reducing the amount of pickups required.
Please contact us for more information about our Smart Waste Solutions.