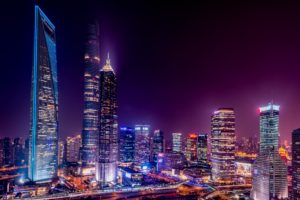 We've all heard of "Smart Cities." While many of us have a general understanding of what this term means, implementation has been all over the place in recent years. Cities today are adding smart solutions at an increasing rate, yet many of these solutions simply do not communicate with each other. This creates problems for both city employees and leaders looking to leverage city data. It's clear that cities need a better, more connected solution.
Smart Solutions for Cities
There are numerous options available to cities looking to improve efficiency and collect meaningful data. While one city might have smart lighting, others may implement smart parking meters, and smart trash bins. Unfortunately, these pieces are all being managed from different platforms. This creates stacks upon stacks of data that must be sifted through and managed in order for cities to gather accurate and useable results. Many city employees simply do not have the time or resources to accomplish this task. This makes smart solutions less effective.
In order for cities to get the most out of their smart solutions, each solution must communicate. Cities should look towards integration of several solutions into one, easy-to-use platform. Devices should complement each other in ways never thought of before. It's time for leaders to begin thinking outside of the box.
Smart Bins paired with Smart City Lighting is just one example of smart solutions working together. While the lighting provides WiFi connectivity to the Smart Bin, both devices communicate through one interactive dashboard. Users can quickly view fill level and location of all Smart Bins as well as health and status of all Bins and Lighting fixtures tied to the software. The two devices work together and complement each other by keeping city
When done right, smart solutions make a city:streets safe and free from litter. There are of course numerous other devices that could work together to create a symbiotic relationship.
Smart Cities Improve Quality of Life for Residents
Smarter
Proactive
Predictive
Efficient
This has numerous benefits for leaders, city employees, waste management teams, and more.
For more information about Smart City Solutions and integration of devices, please contact us today.