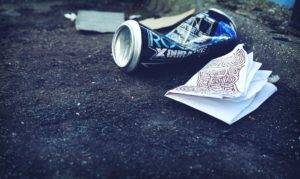 When waste bins become overfull, litter can fall in streets and other public spaces. This creates a safety hazard as people can trip over spilt litter and food waste attracts pests. It's an even bigger problem if litter spreads to storm drains, rivers, lakes, and oceans. Thousands of sea animals die each year when they become trapped, entangled, or ingest litter.
Traditional waste bins do not know when they become full. They do not stop people from continuing to throw waste away. They do not alert waste management teams when they require attention. Mint Controls' Smart Waste Solutions do!
Fill Sensors Keep City Streets Clean
Our Fill Sensors track fill level and send automatic alerts the moment waste in bins reaches a pre-determined level. This increases efficiency and reduces costs, as pickups only occur when bins require attention.
Mint Controls' Fill Sensors also monitor tilt and temperature, providing management with information regarding potential trash fires and bins that have tipped over. This solution provides an efficient and cost-effective solution to overflowing waste bins and a variety of other issues commonly associated with waste.
Smart Waste Receptacles Help Smart Cities Prevent Litter
In addition to our Fill Sensors, we also offer Mr. Fill Smart Waste Receptacles. These Smart Bins monitor and report fill level multiple times a day. The solar-powered Bin includes a self-compacting feature. When waste reaches a certain level, the Bin automatically compacts it. This reduces the amount of times the Bin requires attention. Once full, the Bin sends an alert to waste management teams.
The Smart Bin includes a Smart Flap which is specially designed to keep waste inside and people and pests out. The Smart Flap locks when the Bin becomes full, ensuring people do not continue to add waste and overflow the bin. The special design of the Smart Bin prevents waste from overflowing or being blown by the wind.
The Mr. Fill Container includes an optional cigarette butt compartment. This compartment keeps cigarettes safely out of the trash where they can start fires. It also ensures cigarette butts stay off the street.
Please contact us for more information about our Smart Waste Solutions.