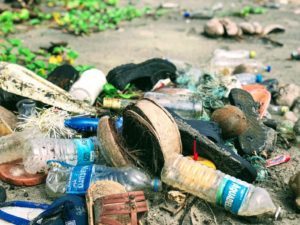 Litter on the beach creates a major health and safety concern for humans, animals, and the environment. When waste bins on beaches become full, trash gets blown onto the sand. Birds, rodents, and insects flock to spilt litter, spreading the mess even further and increasing the spread of harmful bacteria and disease.
When litter makes its way out to sea, animals can get trapped or consume it. Every year, around 1 million birds and 100,000 sea animals die from eating or becoming trapped in plastic waste.  It's clear we need a better waste management solution for our beaches.
Mint Controls is pleased to offer Mr. Fill Smart Bins. These bins provide the ideal smart waste solution for U.S. beaches. These Smart Bins monitor and report the amount of waste inside, letting waste management teams know exactly when and which bins require attention. This helps reduce the amount of collections required and ensures bins do not overflow. The solar-powered Smart Bins include a self-compacting feature. When waste reaches a certain level inside the bin, it activates its compactor, further reducing the amount of pickups required.
Smart bins have been proven to reduce waste collection costs by 80% or more
In addition to solar power, fill level sensors, and self-compacting features, the Smart Bin includes a smart flap to ensure waste stays in and people and pests stay out. This prevents dumpster diving and stops insects, birds, and other pests from accessing trash.
The Smart Bins communicate 24 times each day, providing information regarding fill level, battery life, fires, collection history, solar status, and more. Users can view information provided by the Smart Bins on the Smart City Manager App available for Android and iOS devices. The App provides instant access to status at any time from any device that connects to the Internet.
Mr. Fill Smart Bins have room for advertisements, providing the perfect opportunity for cities and private beaches to sell ad space to local businesses and retailers. This makes the bin more attractive and provides significant revenue to offset the cost of the bin.
Please contact us for more information about smart waste solutions.