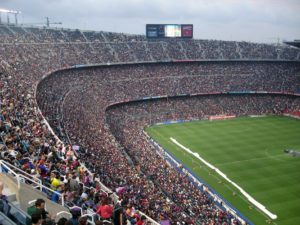 Hundreds of thousands of Americans visit sporting events each year. From hockey, baseball, football, and soccer to La Crosse and tennis, it seems there's always something going on at your local stadium. In fact, some stadiums host multiple sporting events and even concerts year round. While this creates a lot of revenue for the stadium, it also creates a lot of trash. This can lead to problems for the stadium and the people that visit it.
Smart Waste Management Solutions
When waste bins become full, they overflow. Unfortunately, people often continue putting things into the bin long after the point at which they should. Spilt litter can clutter walkways, trip guests and employees, and attract rodents and other pests. This can create major problems for stadium owners and management.
Mint Controls Smart Waste Solutions help solve problems with waste management in stadiums and other spaces where people gather. We offer several solutions designed to eliminate litter and make waste collection more efficient.
Mint Controls offers Mr. Fill Smart Bins. These smart waste containers monitor fill level and alert management the moment bins require attention. Built in GPS provides waste teams with the exact location of each bin. All data collected by the bins is communicated through the Smart City Manager App, available for both Android and iOS devices.
Management can remotely lock the bins in the case of an emergency and/or to ensure patrons cannot continue filling the bin after it becomes full. This prevents overflowing bins, keeping stadiums free from litter and keeping pests out.
Mint Controls' Fill Level sensors also provide an effective monitoring solution for less crowded spaces. These smart sensors can be retrofitted to any bin and provide accurate and efficient monitoring of fill level, battery status, and location of multiple bins. We can even include temperature sensing to help prevent trash fires before they start.
Mint Controls offers smart solutions designed to reduce cost, increase efficiency, and improve the safety of public spaces. We work directly with each of our clients to help them develop a comprehensive solution. Please contact us for more information about our IoT solutions for stadiums.