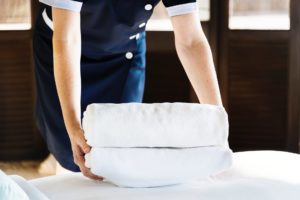 Hospitality businesses deal with a lot of laundry every day. From bed sheets to towels, it's easy to get behind especially during periods of high occupancy. It's important that management takes a proactive approach to laundry maintenance.
Using pre-determined schedules for laundry can create problems when occupancy rates rise. It's also not efficient to wash small loads of laundry as this uses a lot of water and energy. Proper maintenance involves only washing full loads when needed. Unfortunately, many hospitality businesses have no way to monitor laundry levels.
Fill Sensors Provide a Cost-Effective Solution for Monitoring Laundry Levels
Mint Controls' Fill Sensors monitor fill level in a variety of containers. The small device attaches easily to the side of laundry bins and collects and transmits information every hour. Information regarding fill level can be viewed at any time from any device that connects to the Internet. The system sends alerts the moment laundry in the bin reaches pre-determined levels. This ensures proper maintenance and full loads of laundry every time.
By reducing the amount of smaller loads, hospitality businesses reduce the amount of money spent on labor, water, electricity, and gas. This can save a considerable amount of money over time. It also makes maintenance staff more productive and efficient.
Fill Sensors Provide Reliable and Accurate Fill Level Monitoring
In addition to monitoring laundry levels, Mint Controls' Fill Sensors can also be used to monitor waste, paper products in bathrooms and restaurants, condiments, soap dispensers, and more. All information collected by the sensor is viewable on Mint Controls' Software. Users can view information in a clear and easy-to-understand format, making it possible for anyone to use the system regardless of their prior experience with similar technology.
Technology Solutions for Hospitality Businesses
Mint Controls works with each of our clients to fully evaluate their needs and develop a customized solution. We have experience working with a variety of hospitality businesses to provide tracking and monitoring solutions for wine cellars, lobbies, pool areas, guest spaces, and more.
Our Fill Sensors provide an effective and accurate tracking system. Please contact us for more information about our technology solutions.