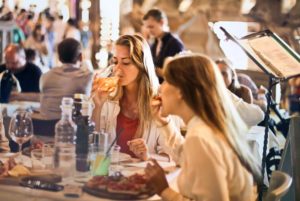 Restaurants must be extremely careful to ensure that foods do not reach unsafe temperatures. If food stored in refrigerators become too warm, harmful bacteria can grow. If left unnoticed, consuming affected food can pose a potentially life threatening situation for customers. It's crucial that restaurants do all they can to ensure that temperatures remain consistent.
Many restaurant refrigeration units come equipped with temperature monitoring capabilities. Typically, the temperature inside the unit is displayed on the outside, above the door. Unfortunately, many employees do not know the correct temperature at which food should be stored. Most systems won't notify employees or management when there is a problem and they certainly don't provide information about what caused the issue.
Custom Solutions for Businesses Today
Mint Controls provides customized solutions to solve a number of issues faced by businesses today. We understand that it can be difficult for restaurants to monitor temperatures and track refrigeration equipment health. Our temperature monitoring system is designed to reduce burden on staff and ensure that temperatures in refrigerators, freezers, and coolers do not change.
Our solution includes the installation of waterproof sensors in refrigeration units. These sensors collect and transmit a wide range of data regarding temperature, humidity, door openings, equipment health, and more. The data collected by the sensors is sent to our database, where predictive analysis takes place. Potential issues are located and alerts are sent in real-time to notify management of a problem. This allows issues to be addressed long before they are able to affect the quality or safety of food in storage.
Relevant information regarding temperature, humidity, compressor health, and door openings can be viewed in one convenient location. The information provided is easy to read and understand. This makes it possible for employees to access the right information when they need it, regardless of their knowledge or prior experience with similar technology.
Mint Controls is pleased to offer a wide range of monitoring solutions, customized to meet the unique needs and requirements of every company we work with. Please contact us for more information about our temperature monitoring solution.