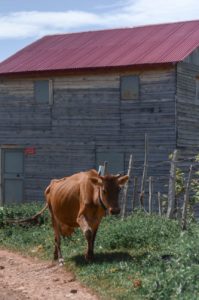 Theft can lead to significant losses for those responsible for livestock. Unfortunately, theft is common. Cattle and other livestock go missing all the time. Most of time, farmers never find these animals. It's crucial that farmers do all they can to prevent loss and protect their livestock.
Virtual Fences Prevent Theft
Mint Controls' Livestock Management Solution helps farmers prevent theft and locate stolen animals quickly and efficiently. The system sends automatic alerts the moment livestock comes close to pre-determined boundaries. These alerts are sent via SMS text message and/or email to ensure quick response time.
The system creates a virtual fence around the entire property. Farmers can choose to create boundaries around potential hazards or protected areas as well.
Prevent Wandering Cattle
Theft isn't the only problem facing farmers. Livestock can wander off and get lost. Without a way to find these animals, farmers may never recover their animals.
Mint Controls' Livestock Management Solution tracks the exact location of cattle, sheep, goats, and other livestock. Through GPS and wireless technology, farmers can quickly locate lost animals. Mint Controls' software displays all information collected by the system. Users can view the location of multiple animals from any device that connects to the Internet. There's never been a faster and more efficient way to track livestock.
How it Works
Tracked animals wear a special collar equipped with GPS and temperature sensors. Solar power simplifies maintenance and ensures sensors operate properly for several years. The collar collects and transmits information regularly to Mint Controls' software. Users can quickly view animal location, temperature, and status from any device that connects to the Internet.
Farmers can set alerts for a wide range of situations. The system can be programmed to send alerts when livestock comes close to pre-determined boundaries or when their temperature reaches a certain level.
Customized Technology Solutions
Mint Controls works with each of our clients to create a solution customized to their needs and situation. Our team provides all necessary hardware, software, and support to ensure seamless integration and proper use of the system.
Please contact us for more information about this solution.