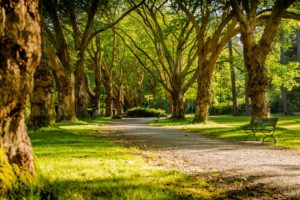 City parks create a space where families and individuals go to connect with nature and enjoy their city. While parks provide numerous benefits to both residents and visitors, they can cause problems as well. Without proper monitoring, parks can attract criminals, especially at night when visibility is low. It's important that cities implement a monitoring solution that effectively detects and prevents crime from occurring.
LIDAR Monitoring For Parks and Other City Spaces
Cities often struggle to monitor parks and other open spaces. This becomes especially hard around trees and restrooms. While cameras provide an effective solution for monitoring spaces, most cities do not allow public spaces to record images of residents and visitors. Even if allowed, cameras are easy to avoid and do not provide a 360 degree view of the space.
Mint Controls' LIDAR system provides effective monitoring of parks and other open spaces. The system scans the area and provides an outline of people and other objects. Unlike traditional cameras, the system does not provide any identifiable information.
Through connection to the Internet, the system applies predictive analysis to images collected. This helps identify patterns and catch potential issues. Configuration of the system enables users to receive alerts via SMS text message and/or email the moment the system identifies a potential problem. This allows management to take a proactive, rather than reactive, approach to crime.
Mint Controls' system constantly "learns" from the data collected, ensuring the system doesn't get triggered by animals or movement of plants. The system can effectively identify people and the direction they're traveling.
Users can view all data collected by the system on Mint Controls' Software. The Software displays information in a clear, and easy to understand format. This makes it possible for anyone to use the system regardless of their knowledge or experience with similar technology.
Comprehensive Technology Solutions, Custom Tailored to Your Needs
Mint Controls works directly with city government to analyze their needs and develop a solution, custom tailored to their unique requirements. We offer a number of features and options to ensure accurate monitoring of parks, public restrooms, public spaces, community centers, and more. Through our subscription pricing model, Mint Controls provides all software, hardware, support, and maintenance for one low monthly cost. This makes our LIDAR system an attractive and cost-effective choice for U.S. cities.
Please contact us for more information about our services.