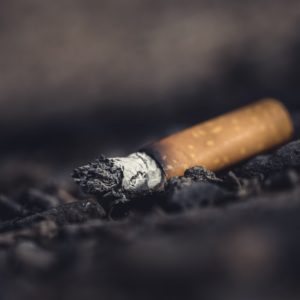 Trash fires can cause major problems for both businesses and cities. Trash fires are often difficult to detect and even harder to put out. Because waste bins typically contain lots of paper and other flammable materials, even a small spark can create a significant safety hazard for both people and property.
Cigarette Butts a Leading Cause of Trash Fires
Lit cigarette butts are a common cause of trash fires. Even with available ashtrays, people still throw cigarette butts in with the regular trash. When added to a bin full of garbage, flames can ignite in a matter of minutes. This is especially true in warm climates where garbage can reach dangerous temperatures without the addition of cigarette butts.
Temperature Monitoring System
Mint Controls' Fill Sensors monitor the level of waste in bins of all sizes. This helps prevent overflowing and makes waste management more efficient. With our Fill Sensors, waste management teams only collect the bins that need it, saving organizations a considerable amount of money on waste management costs.
In addition to monitoring waste, Mint Controls' Fill Sensors monitor tilt and temperature. The Tilt Sensor detects when bins are tipped over and the door is left open. This helps prevent spilled waste and lets waste management teams know when lids and doors are left open.
Mint Controls' Fire Sensor monitors temperature. When it detects that contents are reaching potentially dangerous temperatures, it sends an automatic alert to management. This makes it possible to address potential issues before they escalate.
Mint Controls' Fill Sensors prevent trash fires caused by lit cigarettes, matches, and extreme temperatures. This reduces liability for property owners and businesses. Our Fill Sensors provide the perfect solution for:
Amusement Parks
Hotels
Casinos
Convention Centers
Golf Courses
Housing Communities
Resorts
Offices
Apartment Buildings
Community Centers
Campuses
And More
Mint Controls' Fill Sensors report on temperature regularly, ensuring management always knows the status of their bins. This puts waste management teams in the best possible position to prevent trash fires.
When you work with Mint Controls, we work directly with you to evaluate your needs and develop a customized solution. Please contact us for more information about our comprehensive technology solutions.