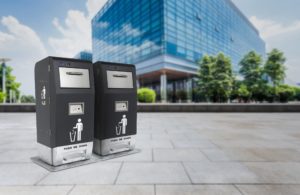 Property owners often find it difficult to manage waste. In large spaces with multiple people, waste receptacles can become full in little to no time at all.  Instead of looking for another option, people will typically gravitate to the same bin over and over, filling it to the brim and then some. While property owners schedule regular pickups, most of the time it's only one or two bins that require attention. Unfortunately, property owners must pay the waste management company to empty all bins, whether they need it or not. It's clear that property owners need a better solution for managing waste.
Smart Waste Containers
Mint Controls is pleased to offer Mr. Fill Smart Waste Collection Containers to organizations throughout the United States. Designed in Europe, these smart waste containers reduce waste, cut costs, and increase waste collection efficiency dramatically.
Run entirely on solar power, the Waste Management System is a self-compacting waste container. The bin contains special sensors, which monitor the amount of waste inside. When waste reaches a certain level, the bin automatically compacts it, making room for more waste. Once full, the bin automatically alerts management that it requires attention. Waste collection only occurs on the bins that actually need it, reducing costs and the amount of time and energy spent on waste management.
The Smart Waste Container includes a high quality stainless steel flap. This flap cannot become jammed with waste. The weather-proof flap prevents access by rodents, reducing the chance of pest-related diseases.
Locally Managed
Mint Controls manages the Smart Waste Containers locally to ensure proper operation and maintenance of the bin. We provide automatic alerts and system updates via SMS text and/or email. These alerts provide all information needed to ensure containers are emptied and maintained when required.
In addition to helping cut costs and reduce waste, the System provides a unique opportunity for businesses to make money as well. The trash container includes a space for placing advertisements. Local shops and businesses can rent this space to advertise their business. With multiple bins, property owners can generate quite a bit of revenue.
Please contact us for more information about how our Smart Waste Solutions can help reduce costs and increase efficiency.